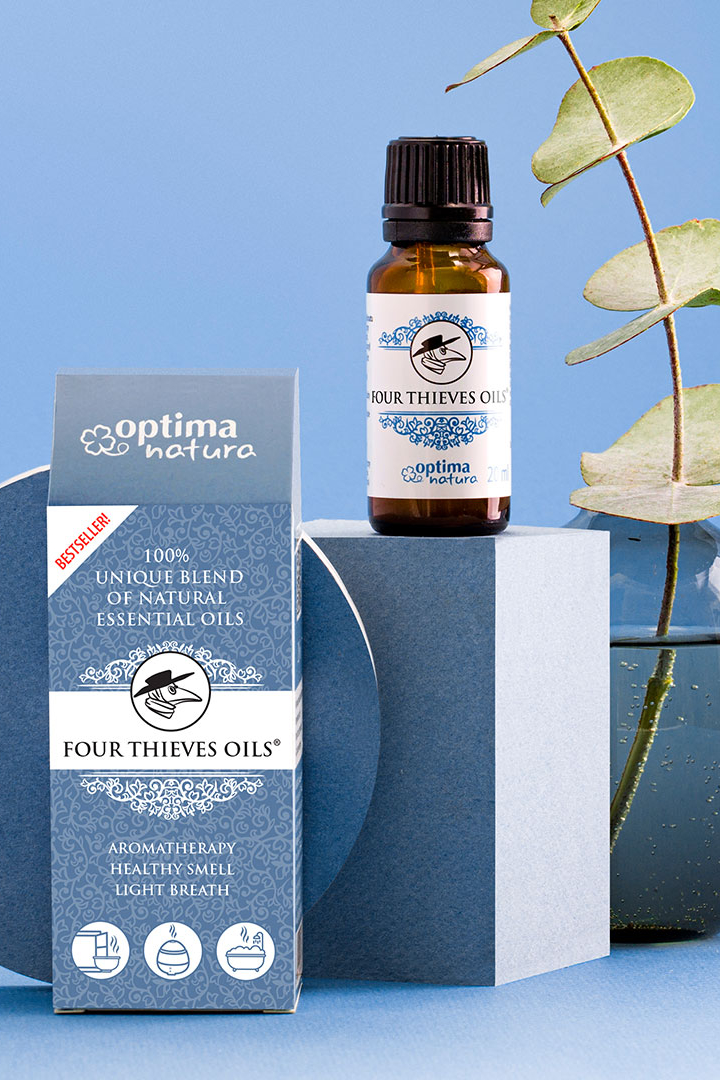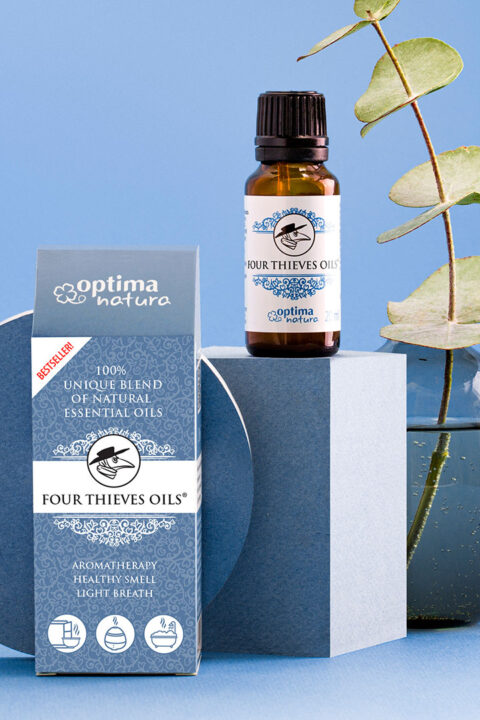 Natural Four Thieves Oils
The Four Thieves Oils is a unique blend of 100% natural essential oils, which is ideal for improving the quality of indoor microclimate and helps to get rid of air-borne pathogens from our surroundings. The oil is recommended especially as treatment for colds and congested airways, when it is used in an essential oils diffuser or a fragrance lamp, it prevents the spreading of infection and improves the quality of indoor microclimate in our surroundings.
---
In spring and summer it can be used as a natural and effective insect repellent, keeping them away with its smell that for us is very pleasant and refreshing. Apart from improving the quality of the microclimate in your home or work place, the Four Thieves Oils can also be added to bath water for a relaxing and anti-bacterial effect, as well as make an excellent ingredient in homemade DIY cosmetics.
When to use Natural Four Thieves Oils?
at peak infections times, in order to stimulate the immune system and avoid infection
in order to improve the quality of indoor microclimate, it definitely improves the air quality in our surroundings
add it to your bath water for anti-bacterial results
as a natural insect repellent, e.g. for mosquitos and midges
to deodorize interiors

for aromatherapy bath

improves indoor microclimate
The history of the Four Thieves Oils
Sometimes the history of the discovery of some inventions is as interesting as their benefits. The Four Thieves Oils is one of them.
At the time of the infamous Bubonic Plague (aka The Black Death) in 15th-century France, four former perfume & spice merchants who were without a source of income at the time, commit robbery, stealing from the sick and dying without contracting the deathly disease. They are caught and brought before the court for their crime. The judges are so intrigued by how these men had stayed immune to this terrible disease that they are given an ultimatum: if they share the secret of their good health, they would be spared punishment. It turned out that the Thieves had prepared an essential oil recipe that when applied to their hands, ears, feet and the areas over their mouths and noses, it kept them safe from infection.
And that's how the world discovered the recipe known henceforth under the name "Four Thieves Oils" that has been perfected in the 21st century by us at Optima Natura.
The Plague Doctor
From then on, the doctors who treated the victims of the epidemics also started using the Four Thieves Oils recipe, while wearing beak-like masks stuffed with cloths containing this special blend. In this way they could carry out their duties and assist the infected patients without any fear for their own health. And this is why we placed the image of the "Plague Doctor" on our packaging.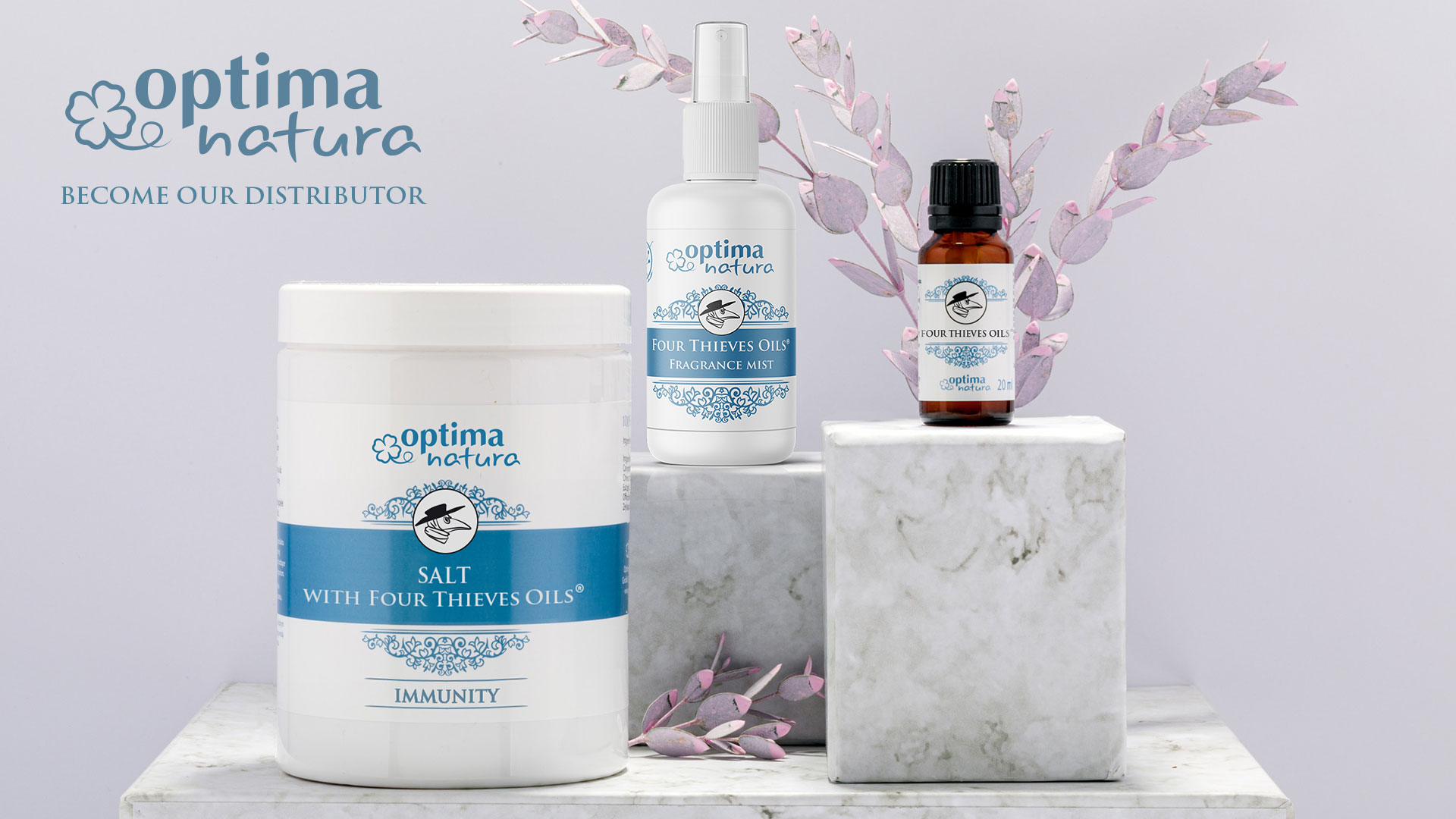 Contemporary uses of Four Thieves Oils
In 21st century, when everyone tries to look after their health and maintain a positive frame of mind, the popularity of natural esoteric oils is growing. They are a natural alternative to synthetic products that are often harmful to our health and to our natural environment.
The powerful effect of natural essential oils of cloves, lemon, cinnamon leaves and bark, eucalyptus and rosemary has been proved to work perfectly also in our times. Our perfected and unique blend comes with a very pleasing and refreshing fragrance.
The Optima Natura Four Thieves Oils will improve the quality of indoor microclimates by getting rid of air-borne pathogens, work ideally in an anti-bacterial bath, and in aromatherapy massage. Its antibacterial action assists in fighting seasonal infections. The list of its possible uses is much longer and, while following the product safety tips below, it all depends on the creativity and inspiration of the users.
---
The Optima Natura Four Thieves Oils, which is a unique blend of 100% natural essential oils, is a must-have that one should always have at hand, both at home and at work.